MIMI JONES
CO-FOUNDER

Mimi Jones, multi-talented bassist, vocalist, and composer, brings her beacon of musical light to the world while embracing a positive future with her inspiring messages. Mimi's elegant sound is an eclectic mix of genres based on a strong jazz foundation that leave room for funky bass grooves, world beat rhythms, and gentle textures. Her inspiring debut release CD, "A New Day" is bursting with original compositions seamlessly melting from one song to another and caressed by the warmth of Mimi's sultry voice. The title of the CD speaks of embracing a changing world with a positive point of view while maintaining the courage to move forward just as the new persona and alter ego, Mimi Jones, was transformed from "side man" Miriam Sullivan in order to more appropriately express her own messages of change and future progression.

Mimi Jones has shared the stage with such talents as the great Lionel Hampton, Roy Hargrove, Rachel Z, Sean Jones, Kenny Barron, Jesse Davis, Ingrid Jensen, Kevin Mahogany, Denis Charles, Tia Fuller and Onaje Allan Gumbs just to name a few. Besides receiving a Bachelor's of Music Degree from the Manhattan School of Music she also studied, attended workshops or mentored with Lisle Atkinson, Barry Harris, Ron Carter, Milt Hinton, Dr. Billy Taylor, Yusef Latif, Max Roach, and Latin bass techniques with Guillermo Edgehill. The Mimi Jones Band has performed at the Jazz Standard, the Blue Note, and the Kennedy Center, Dizzy' s Coca Cola.

Mimi Jones has been a reoccurring face at the Kennedy Center since 2000, as part as annual the Mary Lou Williams Women in Jazz Festival playing bass for the annual piano and saxophone competition. She has also performed in groups led by pianist Rachel Z, piano legend Joanne Brackeen, saxophonist Tia Fuller, and her own project the Mimi Jones Band which was featured premièring her debut release, "A New Day." The Mimi Jones Band has also appeared at the The Blue Note, The Jazz Standard, Dizzy's Club Coca Cola, Small's Jazz Club, Symphony Space, and the Zinc Bar. In the future Mimi Jones plans to incorporate multimedia in her performance and collaborations with other artists. She wants to find more diverse ways to reach out to the public by making her music accessible while maintaining the integrity of the music that has propelled her on her journey.

Recently Mimi Jones can be found playing on Terri Lyne Carrington's new release "The Mosaic Project", Tia Fuller's 2011 release "Decisive Steps", and Poet extraordinaire Samantha Thornhill's "Odelicious Poems". Earlier this year Mimi made a second trip to the magical isle of Haiti for the annual Haitian Jazz Festival. She was excited to perform with vocalist Pauline Jean and participate in the workshop series with Haitian students.

Although Mimi plays acoustic bass, baby bass, electric bass, and numerous styles of music including jazz, funk, hip hop, Cuban, free, folk, and pop. She remains open to learning new sounds. "I hope that this music sends a message of unconditional love and encouragement to let people know that we all experience the same things but in different ways. If we find the joy within eventually it will be all around us." For more about Mimi Jones visit at www.HotToneMusic.com and www.MimiJonesMusic.com



---

ARCOIRIS SANDOVAL
CO-FOUNDER


Known for her innovative ability to incorporate contemporary melodic, rhythmic and harmonic devices in both her playing and writing, New York-based jazz pianist, composer, and educator ArcoIris Sandoval hopes to promote environmental and social awareness through her music.

Moving to New York City in 2010, she obtained her Masters degree in Jazz Piano Performance from the Manhattan School of Music while studying with Phil Markowitz, Jim McNeely, Garry Dial, and Dave Liebman while also regularly performing with her own trio as well as with bassist Mimi Jones. She's performed at many venues across NYC including at MTV Studios, Smalls, the Steinway Hall, Dizzy's Club Coca Cola, The Jazz Gallery, Symphony Space, among others.

ArcoIris was one of a few participants accepted into the 2011 Mary Lou Williams' Women in Jazz Workshop held at the Kennedy Center in Washington D.C. In July 2012, she performed as a semifinalist in the 2012 Montreux Solo Jazz Piano Competition held at the Montreux Jazz Festival. In February 2013, she participated in the Metropole Orkest Arrangers Workshop, working with Vince Mendoza and arranging for guest artist Richard Bona. She is a recipient of the 2013 and 2015 ASCAP Young Jazz Composers Award and she also participated in the 2013 Betty Carter Jazz Ahead residency at the Kennedy Center in Washington, D.C. under the artistic direction of Jason Moran. In 2016, she was awarded a Fulbright grant from the US Embassy for traveling abroad with Camille Thurman's 4tet.

ArcoIris Sandoval and bassist Mimi Jones are the musical directors and composers for the multimedia D.O.M.E. Jazz Philharmonic Orchestra, a production which integrates composition, cinematography, and choreography and features extraordinary artists including Steve Wilson, Jamie Baum, Tia Fuller, Claire Daly, Luis Perdomo, Sharel Cassity, Hans Glawischnig, and Riza Printup.

She was a featured artist at the Tucson Jazz Festival along with Jimmy Cobb in January 2015 and performed with The DOME Experience Jazz Philharmonic for the 2015 APAP Conference which took place at the Hilton in midtown NYC. She opened for Tower or Power at the 2017 Tucson Jazz Festival with Lonnie Plaxico. She is currently performing with many groups around NYC including with the Mimi Jones Band, Human Kindition, Lonnie Plaxico Band, Shirazette Tinnin's Sonic Wallpaper, Camille Thurman, and Terri Davis as well as her quintet Sonic Asylum which features a roster of acclaimed musicians including Jaleel Shaw, Mark Turner, Mimi Jones, Dayna Stephens, and Nate Smith.



---
GOUSSY CELESTIN, Dancer and Choreographer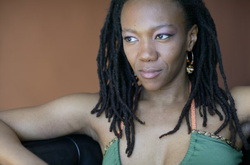 Goussy Célestin's personal mission is to stir up all her musical influences into a moving experience, incorporating Jazz elements, and dance influences. She has studied/performed music and dance for the last two decades with such esteemed names as Ron Carter, Jimmy Heath, C. Scoby Stroman, Max Roach, Donald Byrd, Barry Harris, and Sheila Jordan as a jazz pianist-vocalist, while studying with Pat Hall, Jean Leon Destiné, and Camille Yarbrough, as a dancer.


Goussy currently performs throughout the NYC-Tri state area as a musician and dancer. She is a member of ASE Dance Theater Collective, a neo-folklore ensemble dedicated to the traditional/contemporary arts of the African Diaspora filtered through Haitian music and dance. She is also a member of ¡Retumba!, an all-female multi-ethnic music-dance ensemble dedicated to the traditions of the Caribbean and Latin-America, in addition to serving as lead vocalist for Charanga Soleil. Goussy's wide range of interests and versatility, has led her to study classical piano, Jazz and Latin music. While in Cuba, Goussy had the honor of performing with members of the Buena Vista Social Club, as well as performing/mentoring with members of Grupo AfroCuba de Matanzas, Yoruba Andabo and Clave Y Guaguanco. She has performed at Alice Tully Hall, Lincoln Center, Del Terzo Studio at Carnegie Hall, Symphony Space, SOB's, the Knitting Factory, NJPAC, Tilles Center, Newark Symphony Space, Joe's Pub, as well as various jazz clubs in NYC. A highlight of Goussy's jazz career is a duo piano performance with renowned jazz pianist John Hicks. Her musical travels include Cuba, England, Wales, Japan, Haiti, as well as touring parts of the US.


Goussy's versatility has been valued by many, leading to tenures in many groups in New York City. With the hats of pianist/composer/arranger/vocalist/dancer interchangeably worn, Goussy has received favorable reviews in the NEW YORK TIMES, where she was called a "renaissance woman ". In addition to wearing the many hats of a performing artist, Goussy teaches music and dance in various programs in NYC.


---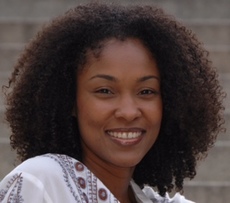 KRISTIN D. CARPENTER, Dancer and Choreographer

​ Kristin D. Carpenter (AEA*) - Credits include THEATRE: (CA) Since Africa*, Old Globe Theatre, Regional, (Movement Coordinator & The Nameless One); (NY/NJ) Pitched, Actors' Playhouse, NYC Fringe Festival; Remembering WeSelves, NJPAC; (IL) Elegba Crossings, Madame C. J. Walker Theatre.
​
COMPANY/CONCERT: (NY) Harlem Praises! Dance Ensemble, Thelma Hill Performing Arts Center, Purelements Dance Company, M'Zawa Danz Company; (OH) Circle of Light Productions, Ohio Dance Festival. FILM: Before Dawn. AWARDS: Harlem Community Arts Fund Grantee – Creator/Director, Harlem Praises! Dance Project; Brooklyn Arts Council's Teaching Artist of the Year. EDUCATION: BA, Black Studies, The City College of New York.
krisdcarp@aol.com
---
LESLIE PARKER, Dancer and Choreographer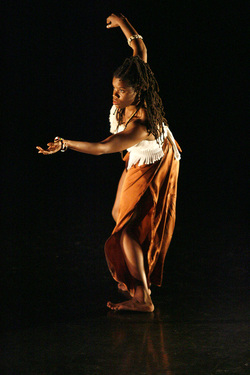 Originally from St. Paul, MN, Leslie Parker is an independent dance artist currently based in Brooklyn, NY holding a B.F.A. in modern dance and choreography from Temple University in Philadelphia, PA.

Parker is a dancer, choreographer, teacher, performer with an extensive study of dances from Senegal, Guinea, Ghana, and the Ivory Coast that has led her to apprentice with Urban Bush Women and perform works by Professor Nii Yartey of Ghana University, Dr. Kariamu Welsh of Kariamu and Company: Traditions, Chuck Davis, African American Dance Ensemble, Reggie Wilson's Fist and Heel, Tania Isaac Dance, Errol Grimes, and Sundance Multiple Performing Arts Company. Her solo work was chosen for BalaSole Dance Company's 2010 fall concert season.

She choreographed original works for cellist Nioka Workman, vocalist Jose James, interdisciplinary artist Laurie Carlos and vocalist Aimee K. Bryant to name a few. Her work has been seen in collaboration with Nia Love's Blacksmith's Daughter Dance Company at the DTW Studio Series and independently at HarlemStage's EMoves13, WOW Café Theater, Movement Research at Judson Church, Thelma Hill Performing Arts Center's PEEKS, The Painted Bride Arts Center, The Women's Roseville Correctional Facility, Patrick's Cabaret, Penumbra Theater's "The Late Nite Series", and Pillsbury House for the African Diaspora, and Hip Hop Theater "Nightmares of JuJube".

She has taught as a teaching artist for Bailey's Café and Caribbean Cultural Center African Diaspora Institute as well as for at-risk youth nationally. She also has led various dance residencies, classes, and workshops for an expansive range of institutions including Penumbra Theatre, The St. Paul Public School System, Minneapolis Public School System, New York City Public School System, Dance New Amsterdam, Zenon Dance Company and School, University of Minnesota, and Carleton College.


---
Featured Artists throughout the years:
** Some of these musician are doubles

Dancers & Choreographers
Goussy Celestin
Mara Rivera
Kimani Fowlin
Leslie Parker

Conductor
Miho Hazama

Saxes
Steve Wilson
Dayna Stephens
Remy Le Boeuf
Tia Fuller
Sharel Cassity
Patrick Bartley
Lauren Sevian
Claire Daly
Camille Thurman
Frank Fontaine

Woodwinds
Jamie Baum
Brian Krock
Dottie Anita Taylor
David Kjar
Jim Ferraiuolo

French Horn
Bert Hill
Kyra Sims

Trumpets
Dave Scott
Alex Norris
Nadje Noordhuis
Matt Jodrell
Vitaly Golovnev

Trombone
Raynel Frazier
Jimmy OConnell
Scott Nimner
Dan Jordan

Tuba
Bob Stewart

Harp
Riza Printup

Piano
ArcoIris Sandoval

Electric Piano
Luis Perdomo

Vibraphone
Nikara Warren

Guitar
David Gilmore
Marvin Sewell
Alex Nolan

Drum Set
Shirazette Tinnin
Allan Mednard
Camille Gainer Jones
Justin Faulkner

Violins
Frederika Krier
Ali Bello
Greg Hubner
Hsinwei Chiang
Leonor Falcon
Elektra Kurtis
Sarah Bernstein
Mazz Swift
Chern Hwei
Scott Tixier

Viola
Maryam Blacksher
Judith Insell
Benni Von Gutzheit
Trevor Trees

Cello
Peter Pearson
Rufus Cappadocia
Jennifer Vincent
Clerida Eltime

Contra Bass
Mimi Jones
Jennifer Vincent
Alex Spradling
Gwen Reed
Hans Glawischnig